EBuzz Bites: Who Did Harry Styles Kiss?!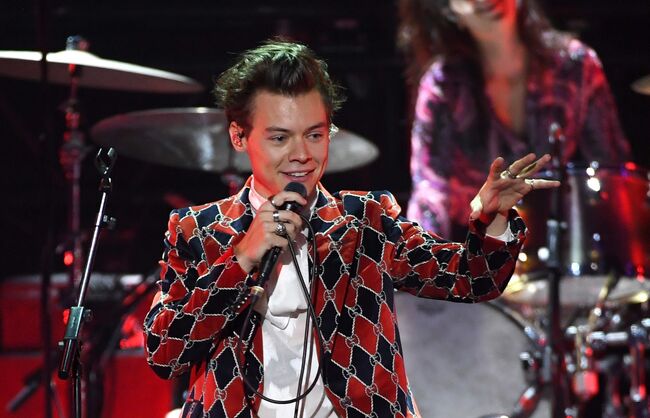 ­
Sources say CHRIS MARTIN and DAKOTA JOHNSON are definitely dating. (Full Story)
"Today" show ratings are UP since MATT LAUER left. (Full Story)
JADA PINKETT SMITH is mad at the Golden Globes for snubbing "Girls Trip". (Full Story)
SETH ROGEN is going to play WALTER CRONKITE in a movie. (Full Story)
JAMES CORDEN and his wife welcomed their third child. (Full Story)
Speaking of JAMES CORDEN, he and HARRY STYLES kissed on the lips during "Carpool Karaoke" the other night. (Full Story)
Judge ROY MOORE lost the Alabama Senate race to DOUG JONES, and celebrities are overjoyed. Moore hasn't conceded yet, though . . . because he thinks there might need to be a recount.
"The Voice" has its four finalists. (Full Story)
KELLY RIPA says REGIS PHILBIN wouldn't talk to her off the air when they were co-hosts, because he wanted to save everything for the show. (Full Story)
ED SHEERAN already scored a #1 hit by turning "Perfect" into a duet with BEYONCÉ . . . now he's re-doing it again with ANDREA BOCELLI. (Full Story)
Check out a trailer for the upcoming HBO documentary, "David Bowie: The Last Five Years". (Full Story)
NICK CANNON basically admits he's not over MARIAH CAREY on his new track. (WARNING!!! The song is loaded with profanity.)
PRESIDENT TRUMP backed Judge Roy Moore, but he took the loss well. He Tweeted, "Congratulations to Doug Jones on a hard fought victory. The write-in votes played a very big factor, but a win is a win."
The mother of bullied middle schooler KEATON JONES did the morning TV circuit yesterday to deny she's a racist. (Full Story)
AARON RODGERS says he's been cleared to play. (Full Story)
LINDSEY VONN thinks spreading cheese on her injuries helps. (Full Story)
PRESIDENT TRUMP Tweeted that he either never met or doesn't know any of the women accusing him of sexual misconduct. So "People" magazine posted a picture of him with one of them. (Full Story)
The allegations against celebrity Chef MARIO BATALI will make you feel ill. (Full Story)