Kim Kardashian Gave Chrissy Teigen An Enormous Baby Gift: See Her Post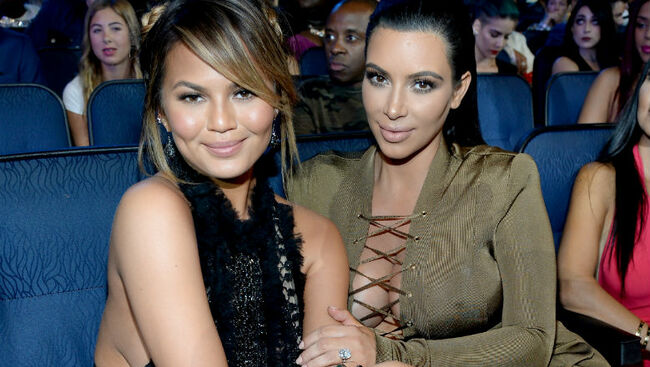 Kim Kardashian West loves Chrissy Teigen so much that she decided to surprise the cookbook author with an enormous bouquet of white roses on Wednesday (May 23) to celebrate the birth of her and husband John Legend's son Miles Theodore Stephens.
In the photo, which Teigen shared on Instagram, the couple's daughter, Luna Simone, can be seen standing next to a huge sphere of flowers, which was designed by Kardashian-Jenner's go-to flower designer Jeff Leatham. "Joey Lawrence WHOA ❤️❤️❤️ @kimkardashian thank you!! Going to open a potpourri business in about one week taking orders now!" she captioned the shot, which has gone on to receive more than 1.3 million likes.
Miles Theodore Stephens was born on May 17 just a few weeks ahead of his expected arrival date in June. Days after his birth, Teigen took to Instagram to introduce her son to the world of social media. "Hello, world! This is Miles Theodore Stephens - We are drowning in his little peeps and nuzzles," she wrote. "Our household feels overwhelmed with love. Thank you for all your well wishes!"
Flower arrangements tend to be Kardashian and Teigen's thing, particularly after we learned that Teigen jokingly sent Kardashian West condolence flowers after a broken BlackBerry back in the day. "You guys, how thoughtful is Chrissy? She sent me this floral arrangement, she just gets me," Kardashian West said in a Snapchat video in August 2016. The accompanying handwritten note from Teigen hilariously read: "I'm so sorry for your loss. I know how much you loved your BB. You were both very lucky to have each other and you will always have the memories. Xoxo Chrissy."